Station for semi-automatic welding acc. to method TIG, MIG , MAG, automatic welding with fluxing agent, plasma arc welding (15) and laser cutting with table 2000 x 6000 mm .
In the second half of 2014 we received a certificate confirming fulfillment of the requirements of PN-EN1090-1 + A1: 2012 in the production of of structural steel elements
We weld all kinds of steel, also duplex
In 2014 SINKOS was granted the quality certificate that confirms fulfillment and implementation of company quality control system in production of steel elements acc. to code PN-EN 1090-1+A1:2012.
Technological weld approval (TUV, UDT, BV)
Own laboratory for strength tests.
For larger capacity tanks we apply an effective rolling-method for shell fabrication in the company workshop, which enables to keep the high quality of product and to cut the cost of works in comparison to the traditional method.
For smaller diameter tanks we apply the innovative ribbon-method of construction, which assures the very high quality and enables the construction directly on the building site.
Mileage of the ribbon-method shown in the following diagram: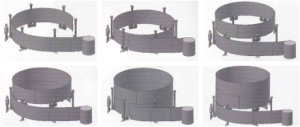 We possess an own facility and assembly area directly in the barge-port on Odra river which enables the easy access to the water transport.